Summer is coming – which means corporate picnics, employee appreciation events and a little bit more of a laid-back atmosphere. Many of Maui Wowi's smoothie catering clients have every-other-Friday relaxation events as a way to keep people motivated before the weekend. Having Maui Wowi provide smoothie catering for your event and serve pina coladas (and other flavors — and perhaps even with a shot of rum or vodka) is a great way to bring your staff together.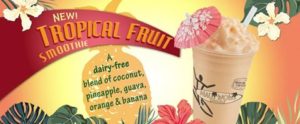 We serve a variety of dairy and non-dairy smoothie flavors for our smoothie catering events The most popular are strawberry banana, pina colada and mango orange. A big summertime hit at corporate picnics is our Lemon Wave – a frozen lemonade. We also offer frozen cappuccino, black raspberry, peach and kiwi lemon lime. And we just introduced our non-dairy Tropical Smoothie, which combines coconut, pineapple, guava orange and banana.
Most of our customers love our portable tiki bar setup. In minutes we've got our Vita-Mix blenders humming, blends ready to go, and we can make hundreds of smoothies an hour for your team members. One bar and one or two servers are fine for most events of 150 people of fewer. We've had events for thousands, like the one pictured below at Viacom. For that, we set up four stations with eight servers. So large or small, we can handle it.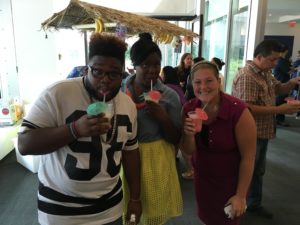 We also operate indoors or outdoors. Whether on a balcony, in a parking lot,  in a public park or onboard a boat, we can do our thing outside.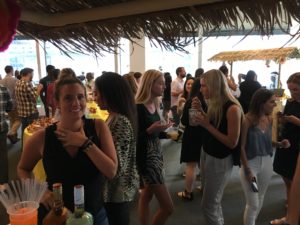 The most important element of what we do is work effectively with event planners and catering companies who are organizing company picnics, employee appreciation events, promotions/trade shows and other events. We make sure that we do our job so you can do yours. We'll arrive early, set up fast, operate professionally and clean up well. Just show us where the electric is and we're good!