Your high school or college student is graduating, finally! If it's high school, and they're going away to college, congratulations on not having to clean their room anymore. If it's college, congratulations on being one step closer to having them off the payroll. Either way, it's time to celebrate.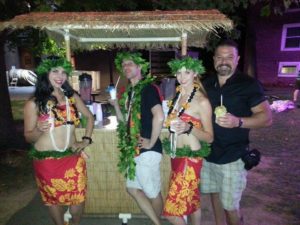 Maui Wowi smoothies are the best thing to cater at a  graduation party. Why? Because kids (high school or college) love smoothies. And they love the parasols (some people call them umbrellas) that we put in the drinks to give them a festive look. Bring us to your grad party and we'll throw in leis to make it more fun. We can also use special cups – coconut cups are really popular. Add to all that our portable tiki bar, which sets up in minutes by your pool or anywhere, and the party is ready to start.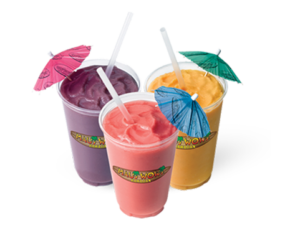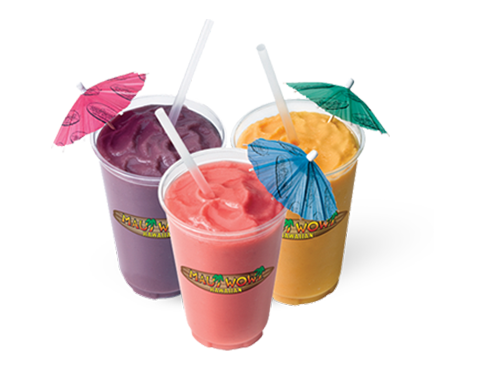 Graduation parties with a Hawaiian theme are especially fun and easy to plan. Click over to Oriental Trading or similar sites and you'll find an array of inexpensive decorations which we can place on our bar.
A Hawaiian theme grad party is also an excuse to pick up an Aloha shirt (any Hawaiian theme shirt). You don't have to blow a month's tuition payment for Tommy Bahama. Every retailer sells inexpensive Hawaiian shirts these days (even if they're made somewhere other than Hawaii — and they always are).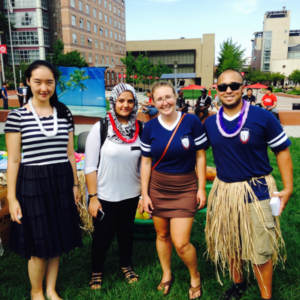 BTW, we can pour alcohol for your college grad party so they can have real pina coladas (and yes, we will check their IDs, and no, we will not serve them alcohol if they've had enough, or if you instruct us not to).
Now, what about summer/backyard parties? We have many clients who have an annual family/employee/friends gathering…some we've been serving for 15+ years or more running. At one of our favorite parties, we're placed opposite the sushi bar (where two experts make sushi and the kids consume it just as fast).  Whether your party is for 50 or 500, we can manage it easily with our expert staff who man the bar and our blenders so there's never a line.